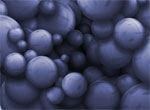 Nonwovens are one of the fasting growing categories of industrial materials due to their extraordinary range of performance attributes and ability to deliver cost effective reliability. MatterWorks delivers tailored nonwovens as well as unique combinations of materials involving films, adhesives, coatings and surface treatments.

Composites Materials are not used in isolation, but serve their purpose by interaction with surrounding structures and the environment. MatterWorks appreciates the integral nature that nonwovens can serve in a finished product and tailors materials to the needs of the ultimate end application.

Coating & Lamination MatterWorks employs several high speed industrial processes to combine materials into new structures. By leveraging large scale processes to convert low cost materials to custom applications, MatterWorks offers cost effective and high quality solutions to reduce operations cost.